Porsche Design Tower
Developer Verified
Sunny Isles
$5.8 million - $32 million
PROPERTY TYPE

Affordable

COMPLETION DATE

mid-year 2016

DEVELOPER

German Porsche Design Group and engineered

ARCHITECT

STORIES

57

UNIT TYPES

1,2 & 3,4,5,6 rooms
VIEWS

Waterfront

PAYMENT STRUCTURE

TOTAL RESIDENCES

132

PET FRIENDLY

RESIDENCE SIZE

3,800 - 9,000 s.f under AC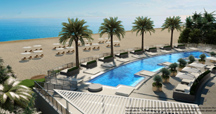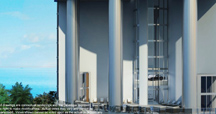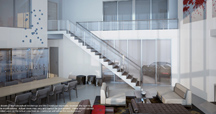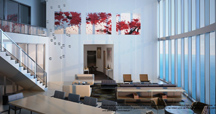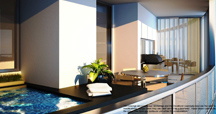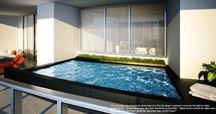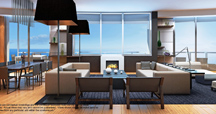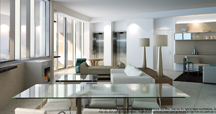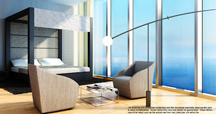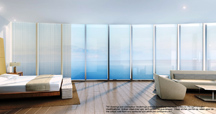 ---
This soaring $560 million 57-story Sunny Isles Luxury condo developed by the German Porsche Design Group and engineered with the latest technology for highest comfort of the future residents. The cylindrical structure will be erected on 2.2 acres of beachfront land on Collins Avenue and will have only 132 units with 284 parking spaces for the most sophisticated buyers , that depending of the floor plans will have ability to park two or four cars right inside of their residences.
Porsche Tower Miami will be the tallest residential building in Sunny Isles Beach and unique for its inclusion of a robotic parking garage – the world's first condominium with three elevators that will take residents directly to their units, owners of the luxurious apartment will be able to see their cars from their living rooms. The way this unbelievable machinery works is very simple - after the resident of the pulls over and switches off the engine, a automatic arm that works much like an mechanical plank will scoop up the car and put it into the elevator. Once at the desired floor, the same robotic arm will park your car, leaving the owner nearly in front of his front door. The glass elevators will give residents panoramic views of the Miami Beach and Atlantic Ocean during their high-speed journey, which anticipated to last 45 to 90 seconds.
PORSCHE TOWER MIAMI PRICES
Porsche Design Tower preconstruction prices range from $3.2 million to $15 million depending on the units location and floorplans, that will vary from 3,800 to 9,500 square feet. Penthouses with have triple height and can be joined into single units, prices vary between $20 and $25 million. Porsche Design Tower Sunny Isles will be the first of its kind in South Florida and will change the skyline of Miami Beach forever. This luxury oceanfront condo have 400 feet of beachfront of the Atlantic Ocean and will have gated entrance controls for traffic in and out of the premises by guest announcement and video identification. Additional security is provided by 24-hour monitoring of grounds that are professionally landscaped and meticulously maintained. Construction of Porsche Design Tower Miami will begin in second quarter of 2013 and completion scheduled by mid-year 2016.
PORSCHE TOWER MIAMI AMENITIES
Ocean-to-Intracoastal see-through floor plans
Floor-to-ceiling glass in living room, dining room, kitchen, bedrooms and baths
Raised foyer ceilings, gallery-quality wall finishes
Pre-wired for cable television and ceiling fans
Whirlpool full-size, sound proofed washer and dryer
Raised panel interior doors with custom hardware
Three-story high lobby with glass car elevator observatory in center of lobby
Lobby level restaurant overlooking the ocean with indoor and outdoor seating
Private enclosed wine locker for each unit located within the restaurant
Lobby level Bar & Lounge overlooking the ocean with fireplace and big screen TV ' s
Oceanfront pool located on first floor landscaped deck with food & beverage service
Oversize plunge spas overlooking the Intracoastal Waterways
Game room & Ball Room with elevated ceilings, virtual golf simulator
Movie theater with stadium seating and popcorn bar, card table and billiard
Oceanfront ballroom equipped with Bar & catering kitchen
Oceanfront Spa & Fitness center quipped with state-of-the art machines
Hair salon with manicure and pedicure stations
Outdoor seating/sunbathing deck for afternoon sun and watching sunsets
24-hour valet, security services and in-house car concierge and on-site concierge
PORSCHE TOWER MIAMI RESIDENCES FEATURES
Private elevators which will open directly into the
Two level units available with close to 24 feet height ceilings
Fireplace in most of the units
Fifteen feet deep (5 meter), terraces
Every unit facing the ocean will have a pool approximately 10' X 15' in the terrace
Outdoor gourmet kitchens
Two parking garage besides apartment for models B, C & D floor plans
Four parking garages besides apartment for model A floor plans
Hurricane resistant floor to ceiling windows and glass railings on all balconies
Chilled water air conditioning
Glass enclosed car observatory spanning 3 interior floors at the lobby
Flexible floor-plans 3,4,5,6 bedrooms + storage
Residences range from 4800 Sq. Ft. to over 10,000 Sq. Ft.
PORSCHE TOWER MIAMI RESERVATION SCHEDULE
10% at reservation
10% at signature of contract - Dec 2012
10% at beginning of construction - April/Jun 2013
70% at closing - 2016
You can reserve a residence with just 10% deposit which will be placed in the escrow account. This reservation can be canceled anytime with a full refunded deposit. Building will begin going into contracts in December of 2012 with an additional 10% deposit for a total of 20% down payment at contract. The last 10% deposit for a total of 30% is due at the beginning of construction in the middle of 2013 and remaining 70% balance due at closing in 2016.
PORSCHE TOWER SUNNY ISLES SALES CENTER IS OPEN
Porsche Design Tower Miami has opened its sales center, it include small models of the residences, along with a video display of the parking technology. There is a lot of interest from prospective buyers from all over the world in Porsche Tower Sunny Isles preconstruction condo, so we recommend that you act quickly. If you decide to put a deposit on reservation on any residence at Porsche Tower Miami, deposits are fully - refundable within 15 days of selecting a condo to purchase. We will be happy to step you through the buying process To schedule personal presentation feel free to contact us at any time.
Porsche Design Tower
Location
---
PORSCHE DESIGN TOWER DEVELOPER MATERIAL